Last Words from Texas
If you enjoy these free downloads, please consider making a tax-deductible donation to support Corey Dargel's current and future work.

Last Words from Texas (2011)
Eight songs setting to music the last statements (verbatim) of executed offenders put to death by the state of Texas.
This 18-minute EP was released as a free download on May 1st, 2011, as part of a New York Times profile of Corey
The EP has been arranged (by Corey) for the amplified chamber ensemble Newspeak who will premiere the arrangements in the summer of 2013 in Washington, DC. The amazing soprano Mellissa Hughes will be the singer.
Also, the musical collective LE TRAIN BLEU commissioned a sequel for voice and chamber orchestra, called, appropriately enough, More Last Words from Texas, which they premiered on April 20th, 2012, at Galapagos Art Space in Brooklyn, NY, and April 22nd, 2012, at (Le) Poisson Rouge in New York, NY.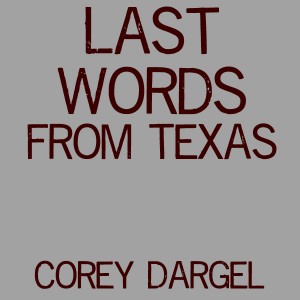 …or stream all tracks:
Audio clip: Adobe Flash Player (version 9 or above) is required to play this audio clip. Download the latest version here. You also need to have JavaScript enabled in your browser.
Corey Dargel does vocals, all instruments, and production
music ©2011 Automatic Heartbreak (ASCAP), text taken from the public record
1. Date of Execution May 13 2010 (2'03″)
2. Date of Execution May 04 2006 (2'28″)
3. Date of Execution December 15 1993 (2'29″)
4. Date of Execution February 11 2004 (1'09″)
5. Date of Execution July 11 2006 (2'23″)
6. Date of Execution October 28 1997 (2'22″)
7. Date of Execution May 19 2010 (2'43″)
8. Date of Execution June 26 2007 (2'14″)