Matthew Guerrieri, contributor to the Boston Globe, reviews "Thirteen Near-Death Experiences" for New Music Box
Matthew Guerrieri writes an insightful review of the September 30th, 2012, performance of Thirteen Near-Death Experiences as well as Elliott Carter's Triple Duo and Eric Nathan's Walls of Light.  Here's the full text, but be sure to support New Music Box by reading the article there.
New England's Prospect: Talking Cures
By Matthew Guerrieri on October 9, 2012
For the various malcontents and hypochondriacs in Corey Dargel's Thirteen Near-Death Experiences, nearness is in the eye of the beholder; it felt appropriate, then, that it was this work that finally got Dargel across the comparatively short distance but seeming aesthetic gulf between Brooklyn and Boston and its environs, arriving at Cambridge's Longy School of Music on September 30 for a Sunday-night performance with Collage New Music and conductor David Hoose. The Boston area teems with new music, of a stylistic variety to belie the town's reputation as a fish-farm of academic modernism, but the sort of lyrically grooving, pop-and-minimalism-influenced music that's been coming out of New York and (especially) Brooklyn over the past decade or so has only rarely made it here.
Dargel has been an exemplar of the style, his quasi-theater-piece song cycles—swimming in pop conventions, inseparable (so far) from Dargel's own lean, crooning-ghost singing voice— unapologetically specific in their influences while, at the same time, practically courting the "unclassifiable" tag that seems to follow Dargel wherever he goes. Thirteen Near-Death Experiences combines that AM-radio inheritance with one of the most venerable new-music set ups around, the flute/clarinet/violin/cello/piano/percussion collective better known in composition jargon as "Pierrot-plus." On the one hand, the results are familiar, bright, bouncy pocket symphonies reminiscent of, say, Van Dyke Parks—but Dargel twists his pop progressions in Möbius bands, and his rhythms are refracted and glitchy (an effect amplified by having percussionist Craig McNutt spend most of his time with an electronic drum pad).
Formally, Dargel sticks to the pop-song template—repeated verse-chorus modules, with the ensemble varying more through slow build-ups than wholesale variation—but he takes a more classical approach to the overall cyclical structure, symmetries in mood and technique making a traditional Schumann-esque arc across the movements. Take for instance, the balanced extended-percussion glosses in the third and tenth movements, a repeated drumstick count-off forever re-triggering "Sometimes a Migraine is Just a Migraine" echoing the ensemble hand-clap punctuation in "Ritalin," the clapping herded into an 11/8 ostinato at the end, like a round of applause tamped into conformity.
Dargel's lyrics tend toward the plainspoken, and often feel to be in deliberately awkward relationship to the accompaniment, laid over the music, with it but not of it. It works dramatically, a perfect analogy for Dargel's characters, eccentrically flawed but craving acknowledgement, each one seeming to commandeer the music, roping the ensemble into being an unwitting accomplice in the musical number the characters imagine for themselves. It's the sort of thing that makes me think that Dargel is less unclassifiable as in a very specific class, a member in good standing of that company of songwriters that use the limits of style as a resource for characterization.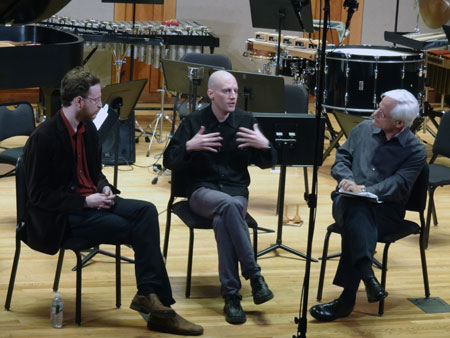 The one comparison that kept springing to mind was Marc Blitzstein—and not just because, whether by design or coincidence, the fifth of the Near-Death Experiences, "What Will It Be for Me," shares a title with one of Blitzstein's most lyrical creations, Alexandra's aria from the opera Regina. Like Blitzstein, Dargel portrays his characters' yearning through the impression that the best way the characters know how to communicate—through the vernacular of popular song—is still inadequate to the power of their feelings, the charge of each song arising out of the tension that comes from running up against the limits of the musical vocabulary. Blitzstein's vernacular was art song and Broadway, Dargel's is that of looping minimalism, power pop, MIDI computer playback; but they share an undercurrent of melancholy, frustrations observed with equal parts insistence and wonder.
The group played extremely well, but, then again, Collage tends to play everything extremely well. Along with the likes of Boston Musica Viva (who also kicked off their season last week) and Dinosaur Annex, Collage is a product of that 1970s, modernist new-music era—this marks their 42nd season—that, through thick and thin, nevertheless keeps going at a predictably high level. Collage's season announcements have been coming later and later—this year's emerged only a week before their first concert—but the concert itself sounded anything but thrown together. Eric Nathan's 2009 Walls of Light was given a splashy reading; the piece itself was all texture, lots of colors, lots of well-engineered clustered scurrying and swirling, more shape than line. (One thing that was interesting was the way the piece, in its second movement, took a very post-minimalist idea—repeated rising scales, not unlike the opening of Nixon in China—and fully integrated it into a very post-serial, motive-and-gesture-driven contemporary-classical framework.)
There followed Elliott Carter at his most deliciously fractious, the edgy, fasten-your-seatbelts soirée that is Triple Duo. Hoose introduced the work from the stage, going beyond the usual brief program note into a full-blown behind-the-scenes featurette, complete with musical examples. (I normally cringe when conductors start talking, but Hoose does it far better than most.) What really sold the piece, though, was the performance: sharp, full of character, hurtling through Carter's repartee with lethal snap and ebullience.
The critical temptation with such programming is to try and demonstrate that Carter and Dargel are, for all their differences, musical siblings under the skin. That might be too much—they are awfully different—but if there's one thing they have in common, it's making a virtue of musical disruption, showing that the most interesting narratives don't necessarily project well onto music of smoothness and ease. The characters might vary—Carter's voluble and acerbic, Dargel's defiantly damaged—but both dramas spring from the same conviction: that the get-together only starts to be really interesting once things get broken.